Pre-registered contractors
€15 Incl. VAT for the 1st person,
€5 Incl. VAT per person for the 2nd to 4th person,
free for the 5th to 11th person.
Pass valid for both days
Pre-registered dealers
free for the first 2 visitors,
€50 Incl. VAT for the 3rd and subsequent visitors.
Pass valid for both days.
If you do not pre-register, the tariff is €50 Incl. VAT per day per person.
3 snack-bars are on site
Providing hot and cold snacks.
2 restaurants are open to you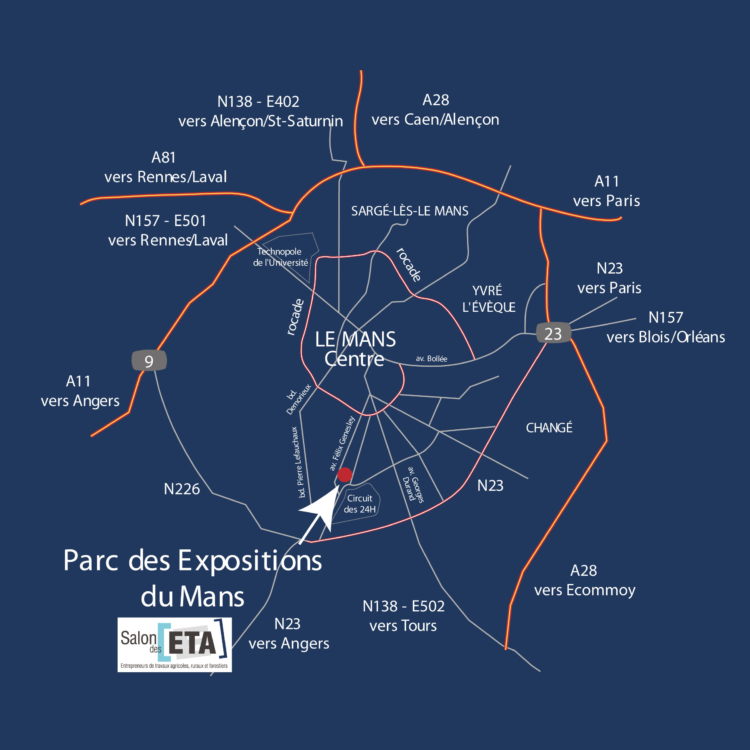 Le Salon des ETA
Centre des Expositions du Mans
1, avenue du Parc des Expositions
72058 Le Mans
By car :
GPS coordinates:
Latitude : 47°57'25.66''N,
Longitude : 0°12'5.24''E
The Exhibition Centre is on the South Mans bypass, opposite the 24-hour Circuit.
By train:
Mans TGV station, access by bus line 17 to the stop « Oasis – Centre des Expositions » (terminus). Journey time: 20 mins. See map and time here:  www.setram.fr