Tuesday 14th and Wednesday 15th december 2021
Pre-registered contractors
€15 incl. VAT for the 1st person, €5 incl. VAT per person from the 2nd to the 4th person, free from the 5th to the 11th person. You have to pre-register every member of your team.
Pre-registered dealers
Free for the first 2 visitors. Order your complementary Distributor Pass at the price of €70 incl. VAT per day and per person.
Thursday 16th december 2021
Other agricultural service provider (Access only the 3rd day)
€15 excl. VAT on pre-registration
If not pre registered, the price on site is €70 excl. VAT per day per person.
3 snack-bars are on site
Providing hot and cold snacks.
1 restaurant is open to you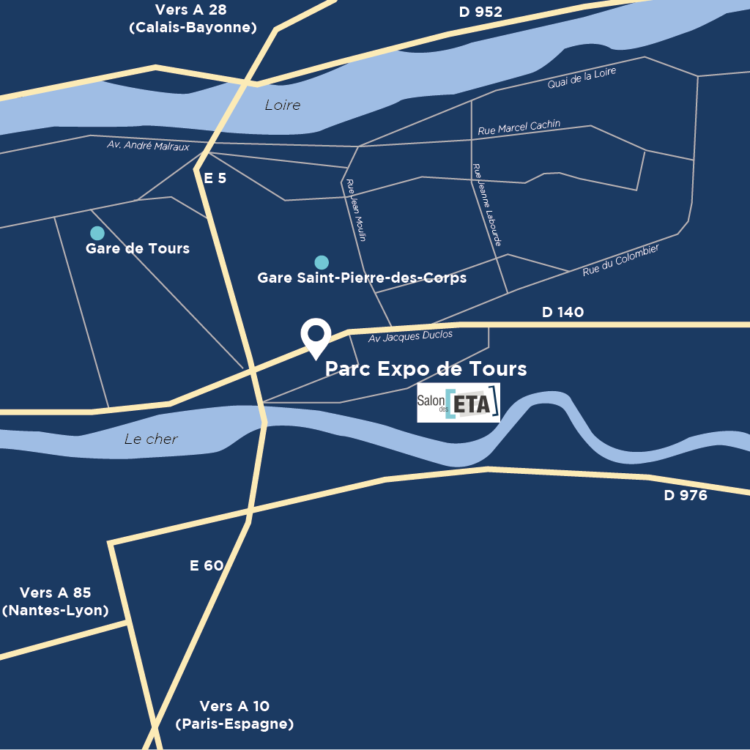 Le Salon des ETA
Parc Expo de Tours
Rue Désiré Decomte
37043 Tours
By car 
The Parc Expo Tours is located at the heart of a motorway junction with the A10 (Paris-Spain), the A28 (Calais-Bayonne) and the A85 (Nantes-Lyon) and benefit from 5 national and / or departmental desserts (RN 10, RD 938, RD 952, RD 976, RD 943) providing links with the main metropolises of France.
By train 
Tours is served by 2 TGV stations: Tours Center in the heart of the city and Saint-Pierre-des-Corps located 5 minutes from the city center